Mistretta-Jones Chiropractic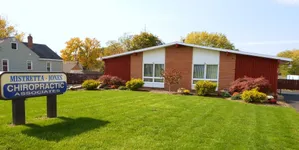 Our practice has been continuous and uninterrupted in Sharon/Hermitage Pennsylvania since 1964. We Have a diverse practice that includes auto and work related injuries, sports injuries, and general chiropractic care including medicare and medicaid recipients.
We moved to a new facility on August 1, 1995 in Hermitage which has given us additional room for adjustments and therapy. We are constantly keeping up-to-date with our continuing education.
Our practice is a multi-chiropractor practice with office hours five days week with either a staff member or doctor always available after hours if a patient needs care advice.